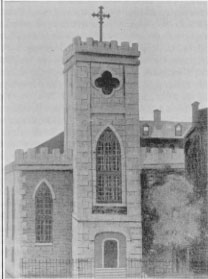 The Old Holy Trinity Church,
1844-1877
Constructed of Roxbury puddingstone and Maine granite and sporting two imposing towers, it was hoped that this structure would be a unifying force both culturally and spiritually for Boston's German Catholic population. Unfortunately, divisions between High and Low Germans soon became apparent due to their different dialects and traditions. Unhappy with this infighting, several pastors resigned in frustration. In the meantime, Bishop John Bernard Fitzpatrick became impatient with this discord and made a last ditch effort to save the parish by inviting members of the Society of Jesus to assume control of the parish in 1848, a ministry they maintained until 1961 (although there were three attempts to return the parish to the Archdiocese in 1850, 1919, and 1946).
Under the parish's first Jesuit pastor, divisions between the parishioners were reconciled. Rev. Gustave Eck, S.J. (1848-1854) also founded a number of organizations, erected a rectory and made improvements to the church by installing a high altar, an organ, and renovating the basement.
As the German population grew, it became evident that a bigger church was needed and so land was purchased on the corner of Tremont and East Canton Streets and construction of a new church building was begun in 1853. Unfortunately, financial difficulties and the departure of the Jesuit pastor due to health reasons ended construction with the builder receiving as compensation the land and construction materials.

Statue of St. Ignatius of Loyola,
Founder of the Jesuits, which stands
above the pulpit in Holy Trinity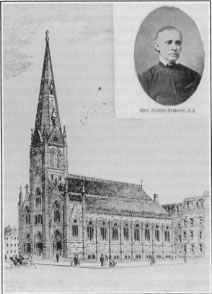 Holy Trinity Church, 1877 Inset: Rev. James Simeon, S.J.,
pastor 1870-1877


With the parish in a state of disillusionment and debt, Rev. Reiter, S.J. (1854-1856, 1859-1870), tried to return the parish back to the diocese in 1860, and when this failed, asked the Redemptorist Fathers to take charge. When they declined his request, Fr. Reiter took on the task of paying-down the parish's debts and raising money to buy land on Shawmut avenue in order to build a bigger church. The cornerstone was laid by Bishop John Williams on November 10, 1872 and was completed by Fr. Reiter's successor, Fr. James Simeon, S.J. (1870-1877) with the first Mass celebrated in the church basement on May 1, 1874. On May 27, 1877, the Feast of the Holy Trinity, Archbishop Williams (who became Boston's first archbishop in 1875) dedicated the new church, which cost roughly a quarter of a million dollars for the church, land, and rectory.